Jim Simmerman
Owner
Simmerman began his landscaping career in Springfield, Mo at the young age of 16. His vision and passion for enhancing the beauty of the Ozarks can be seen almost everywhere you go. With over 35+ years of landscaping wisdom and experience, Simmerman can direct and assist you with any need.
Logan Plunkett
Design Specialist
Logan began his landscaping career in 2008 and has developed into an exceptional talent. With natural design and creative skills, Plunkett leaves customers all over the Ozarks impressed with his knowledge of hardscaping. Plunkett can transform your backyard into a living art sculpture.
Nate Forbes
Certified Arborist
Forbes specializes in tree-care, landscape maintenance, and turf & ornamental care. Nate brings a specialized talent in diagnosing diseases and insect problems and treating them with the best known horticulture practice.
Jim Miller
Irrigation Specialist
Jim is one of the areas leading experts in central controls, 2-wire diagnostics and trouble shooting of two wire systems. Miller is a former golf course superintendent with a background in turf management.
Greg Hatley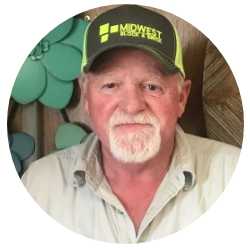 Project Manager
Greg has vast knowledge of project management and coordination. Not only has Hatley been making the Ozarks beautiful for 40+ years, his eye for design and detail is unprecedented. Hatley is an exceptional talent at Botanico of the Ozarks in all aspects of landscaping and irrigation.
Nate Cline
Landscape Foreman
Cline not only is equipped with a talent for landscaping, but his positive and upbeat personality makes him a joy to work with. Nate is a certified Irrigation Backflow Tester and can do just about anything regarding irrigation. If you need assistance with installing, repairs, or testing, he's your man
Julia Davison
Office Administrator
Julia is pivotal in the success of Botanico of the Ozarks with her behind-the-scenes office work and organization. With over 30 years of office management, Davison knows how to keep things functioning. If you have a question or need help, Julia will be happy to assist you!